I have expressed my good opinion on a few forum friends of mine on both ASDF and Crunchyroll each by writing poems about them. They all thanked me and called me kind, and I appreciate this.
However, VividDreamZ from The Crunchyroll forum was the first one who went further - he wrote a poem in return to my poem, even though I had not asked him to this, and this made me heavenly pleased.
That is how I understood that he is a very appreciative friend and that he is such a true and loyal friend that he would spend some of his time and energy to make his friends happy.
I am posting a screenshot of the private message, where he sent me his poem.
Since on the Crunchyroll forum we can upload images to our profiles, the screenshot is hosted on my profile on the Crunchyroll forum.
Of course, I thanked him for the poem as soon, as I received it.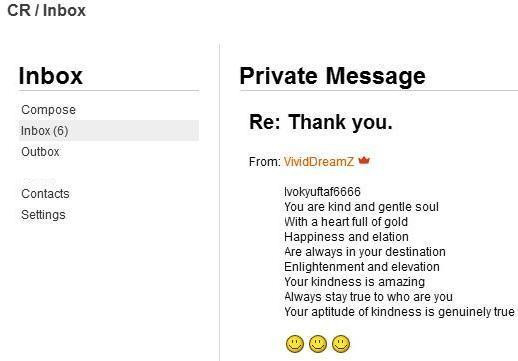 Of course, my other very good friends on the Crunchyroll forum also do very good things to me, which can be compared to this poem.